Meet the Pamper Tree Team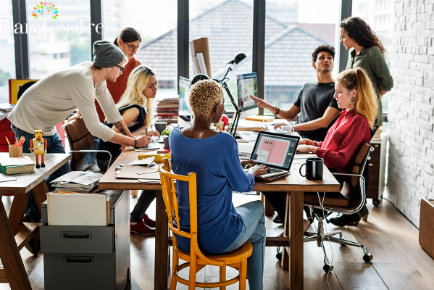 Discovering all about PamperTree and the amazing services the Pamper Tree team has put together for you, is a journey through your requirements for health, beauty and wellbeing in its many aspects. This online booking tool is here, wherever you are e.g. Manchester, London, Birmingham, Leeds, Liverpool, Nottingham, Southampton, Bristol, Brighton. Or you can find us in your nearby town e.g. Altringham, Cheadle, Bury, Worsley or any other town across the UK, to bring you the information that you need about appointments for salons, spas and clinics near you. A source that you can access 24 hours a day, when you have the time or the need to make a booking, wherever you are! This is the directory which brings the service provider that you are looking for, and you the client, together. Enter your search for location and treatment and you can find who is available, see their specialist services, read their reviews, and book. If you need to amend that booking in anyway, via your PamperTree account you can reschedule or cancel, control is at your fingertips. Click here and register today!
Welcome to PamperTree

Just look at the services we promote
You may be looking for a regular treatment, a new salon, a treat, or even a short break, PamperTree brings you the solutions – effortlessly! There is a world of treatments for pampering such as beauty makeovers, nails, brows and lashes and for the remedial therapies that you may need from time to time, provided by massage therapists, even physiotherapists and osteopaths. By raising your awareness to the fantastic possibilities for treatments from skilled professionals, PamperTree is opening up a world of self-care to you, conveniently available on your phone or device.  By taking just a couple of minutes registering on PamperTree you will not only have a wealth of information whether you are looking for a "salon near me" when you are at home, or when you are away on business or on holiday, but also substantial discounts on your treatments and special offers on spa days and short breaks!
Reviews from verified clients
We all use reviews to help us form our decisions, but the question often arises about whether they are genuine. On PamperTree only verified clients can leave reviews, so you can trust them. PamperTree monitors review input so avoiding malicious comments, leaving you to fairly judge the recommendations, either positive or negative, before making a booking. We hope that when you next receive excellent customer service and a first class treatment from one of the outlets we promote, that you will take a moment to leave them the review that they deserve and help them become recognised as one of the Best Salons, by public acclaim!! It is these authentic reviews which PamperTree uses to award this distinction to those who offer consistently good service throughout the year and you could be part of that and benefit from others opinions when you need them.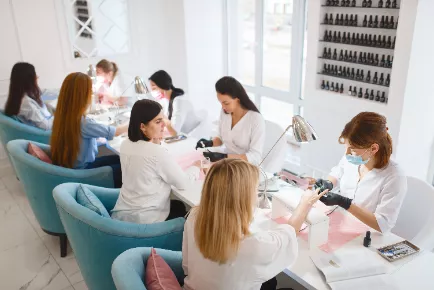 Let's look at what PamperTree offers you
In the 21st century we are becoming not only body conscious, but also more aware of our wellbeing and the client who takes care of one side of this equation often finds that the other falls naturally into place. PamperTree highlights services for beauty, massage and so much more, bringing you a life package which can sort out all your requirements wherever you are in the country. Of course, major cities like London, Manchester, Leeds, Rochdale, Liverpool, Oldham, Cardiff, Birmingham, Belfast or Edinburgh have so many options that you may find you are almost overwhelmed by the choices, but by using the drop down menu you can refine the filters to get exactly what you want. The breadth of services will surely deliver your exact requirements. So lets take an overview of some of the different areas of personal care treatments we know our clients factor in as essentials today, plus those "me time" treats which make leisure time extra special.
Nail Salons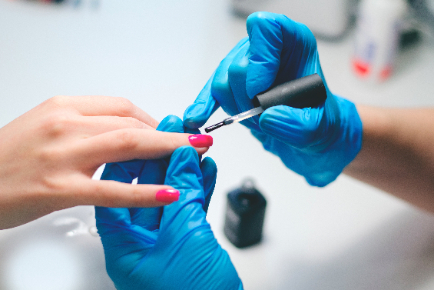 Having beautiful nails is something that is noticeable immediately by those that you meet. The nail salons in Manchester for example know that they need to tailor their expert nail services according to not only the clients' tastes, but to the environment that the client works in. Getting a classic manicure that is acceptable in your place of work will leave you looking elegant and for those in face to face positions, such as receptionists or in the healthcare sector, it will give a positive impression of clean healthy nails. That leaves the more extravagant, next level nail service offered by the nail salons Manchester loves, for your free time. With gel nails or acrylics plus some on trend nail art, you are ready to make a personal statement. So PamperTree has brought together the best nail bars in London, or your local town or city, mobile nail technicians and the top London nail salons to bring clients just the nail treatments they need. Not just London of course, but across the country – because PamperTree is not London-centric but beauty central!! Choose between the nail bars that are part of larger chains, or the individual salon that is your town's best kept secret, select from the menu of treatments of nail extensions, hit the latest fashion trend of digitised nail designs or a bespoke nail masterpiece, unique to you, for that one off date on your calendar. In the summer months with bare legs and your feet on show, then book a pedicure to match and look uber cool. But when you need a nail repair, or gel nail removal, then you need a practical and even perhaps immediate solution, our search engine comes up with answers in Rochdale, Newcastle, Bristol or wherever you may be! UK nail salons are legendary for their nail technicians, London based, Portsmouth and Wakefield too, it makes no difference because the highest standards of nail services are offered by these nail artists promoted here. wherever you may be on the day.
Hair Salons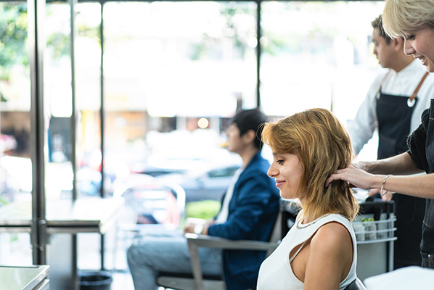 If there is one service that virtually nobody can do without it is the ministrations of a talented hairdresser. It may be the monthly trim or a complete re-style at your favoured hairdressers in Luton should that be your home town. Or perhaps you are looking for a famous colourist at one of the new Luton Hair Salons for a hot new colour or a Brazilian Blow Dry. The world is full of hairstylists, but what you want is the best hairdresser near you in Sunderland, Plymouth or Glasgow!! Right now we all want the shiny locks that we see on the celebs and so may be looking for the latest Lamellar treatments and colouring highlights, or a Keratin treatment and hair straightening to enrich, repair and moisturise. Whatever is on your agenda of hair care you can be sure that the amazing professionals featured on PamperTree will have the latest developments and advances in the industry, whether you are choosing from amongst hair salons in Manchester or going for the same hair salons London based celebrities frequent. Updos and down dos, the sharpest cut, balayage or ombre, a structured look or "cool-girl" hair, you want to be insta-worthy and the best Liverpool hairdressers, or those located anywhere up and down the land, will be working towards creating the look you have in mind. Somewhere like PamperTree knows that there are one-off occasions when it has to be perfect, then you need the wedding hair specialists who offer that hair and make up combo at the venue and right through the day! But we all know that the term "specialist" covers a lot of ground and if you have Afro hair then using an Afro hairdressers in Coventry found on PamperTree should give the same results as one in the Caribbean! It is so important to getting the cut and the treatments just right with Afro hair to keep it looking as it should, or indeed when booking an imaginative and skilled hair braiding stylist. As we get older, we accept the long appointments for hair straightening, or for hair extensions as part of the deal for beauty but setting off in the right way is vital. This can be the case with a children's hairdresser who can allay the fears that some have of that first haircut and turn it into a fun event! Parents and child are happy and the years of salon visits become something to look forward to! Colouring, highlights and lowlights are no longer the exclusive domain of the female, as today's man is right up there with his selfcare demands. So it's not always just a men's hair cut and style, but a beard trim and shave, including beard conditioners, plus a facial and a manicure on order. PamperTree clients, both male and female may be looking for the best in Hairdressers in Carlisle or Norwich, but no matter where your location, you will find them featured, promoting their services and ready to take your booking.
Beauty Salons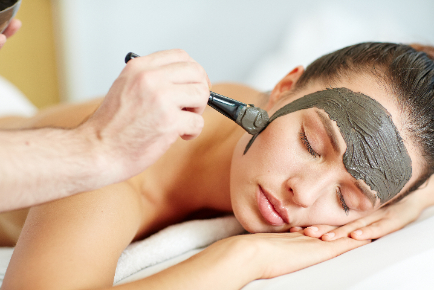 The pursuit of beauty is something that the majority of us continually follow in one way or another. Of course, this predates the celebrity culture and social media influencers that we associate this with today and which crosses all cultures.  As we strive to keep our complexions clear, fighting the effects of pollution, stress and lifestyle, the UK beauty salons are ready to take our challenges in hand. Highly qualified beauticians and cosmetologists give deep cleansing facials, treatments to keep those lines and wrinkles at bay and a vast range of beauty solutions administered by beauticians in Manchester, London and all towns and cities, north, south, east and west, for men and women! With so many treatments available for skin conditions, including oxygen infusion, needle free mesotherapy, microdermabrasion and resurfacing peels you will find the solution to your skin's imperfections. Or for something totally-indulgent take a look at the options advertised by these top beautician and beauty salons and book yourself in with a top beauty therapist near you – have an in-depth consultation and together plan a series of appointments that will shape, firm and rejuvenate your skin and enliven your complexion. If you prefer the Beauty Salons in Chester for example or in your local town or city, who use your favourite products - Elemis, Dermalogica, or specific vegan friendly brands – then a quick click on any beauty salon on PamperTree will give you all the information that you need. With such talented and inspired beauticians in Belfast, Edinburgh, Cardiff and London, in fact at venues throughout the UK, the world of beauty is ready to divulge its secrets just for you and PamperTree is your key to its secrets.
Mobile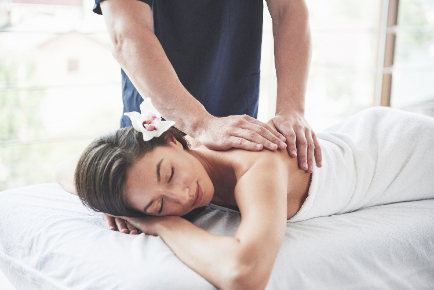 There are so many reasons why at different periods of our lives we may find that the services of a mobile therapist, beautician or hairdresser is exactly what we need. It may be a time issue, finding enough hours in the day to factor in all that we need to do leaves precious little for ourselves sometimes. Having a mobile nail technician come to our home can be the answer to a prayer. Or for those that find their own mobility challenges prevent that massage appointment that can be the very thing that is needed to aid recovery, then mobile masseuses are the answer. A mobile massage therapist is often found in the offices and workplaces of major cities like Liverpool, Derby or Peterborough as well as in London. They perform a short therapeutic massage to boost the employees who are suffering the predictable neck and shoulder tension of working at a keyboard all day, or similar work-related stresses, 20 minutes of massage on site can make all the difference. When it is a special day in your life such as your Prom or the most important day of your life - your wedding day - then having a mobile wedding hairdresser is the way to not only leave you with free time when there is so much to do, but a professional mobile hair and make-up artist available throughout the whole day will keep you looking perfect! Each category listed on PamperTree will bring up options for mobile service in your area, so whether you need a beautician or a hairdresser, there are those offering expert mobile services for you!
Brows and Lashes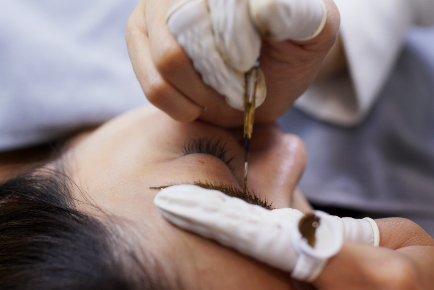 This part of today's beauty regime which accents brows and lashes is an area that has become massive in recent years. The full brow trend has dictated the look at brow bars in London and elsewhere for a while and it doesn't look like changing any time soon. but they are becoming a little softer without harsh edges, fluffier and gently sculptural. Eyes are still a major focus and social media is likewise seeing influencers changing the emphasis from the most dramatic black to a lighter shade of brown on lashes, now that we are hopefully past masks where eyes were naturally the main centre of focus. No matter the nuances of trend we are all looking for a truly talented lash and brow technician near me.  If we live in Greater Manchester we may be willing to travel into the city centre, to find the brow and lashes salons in Manchester used by local influencers, so that we can have the best brows and lashes in Manchester, just like them. Whether your style is for classic lashes, hybrid or the full on drama of Russian volume, when we are searching the listings for the best brows and lashes bars or salons in London or your particular town or city, we all want the one that offers stand out results. When enjoying the benefits of eyelash extensions which do bring definition and impact to the face, from your favourite salon for brows and lashes in Westminster to your local one in Peterborough, everyone knows that eyelash extension removal and infills have to be professionally done.  All good brow and lashes salons will take care of the maintenance of your new lashes to keep them looking as good as the day they were first done. Some clients will still prefer the lash tint or perming for their Sheffield or Sunderland brows and lashes, that they find suits their look, and those with stray hair that go beyond the desired areas for your brows can still of course use the highly skilled beauticians for threading or waxing offered in all good salons for brows and lashes in towns and cities across the UK.
Hair Removal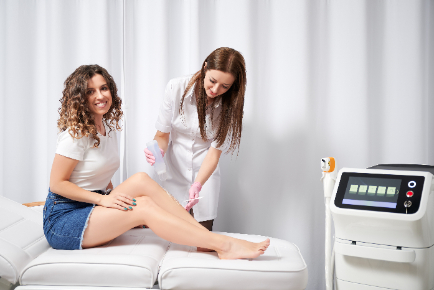 Love it or loathe it, body hair is a personal matter, and the decision is yours to make about whether you choose to go au naturel, or take practical steps to get rid of it. If you go for the latter, then it all comes down to which method is best for you and your skin type. Some still opt for the shave at home to tidy up those leg hairs, but for those that prefer a professional beautician to take care of their hair removal. London or Lancaster, clients everywhere are booking a consultation to discuss whether they should choose an age old remedy like sugaring, threading or waxing, or go for the laser based techniques of Alexandrite for light skin tones and Nd-Yag Laser for dark skin for example. IPL is a method which uses a broad spectrum pulse of light to eventually diminish hair, effective but requiring repeat sessions so is not a quick fix!  But there are many alternatives and it will depend on which part of the body you are wanting hair removed from. Those that want to forgo the removal of their body hair may decide on hair bleaching if they have the skin tones that will accept a bleach, but of course if you have dark skin this would make the hairs more noticeable than ever! Booking for hair removal near Manchester will bring up salons and clinics with professionals who are highly trained with extensive knowledge in their area of specialisation, and it is worth ensuring that you choose a salon or beautician that offers the best hair removal in Manchester. Lockdown meant that many of us neglected this part of our beauty regime as we were simply not going out, but now, with liberty once again ours and the sun hopefully shining, whether you are in Sunderland, Wolverhampton or Bolton, hair removal is once again on the agenda! International holidays or staycations, the bikini wax is an essential! Men are ever more conscious of their appearance and the number of guys who now include hair removal in London or at any of the four corners of the UK is on an upward trend. PamperTree is there for whatever you need in terms of hair removal, listing well trained professionals talented in all ways of removing that unwanted hair!
Short Breaks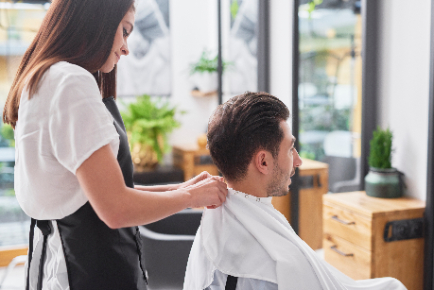 When the mood takes you and you feel the need for a change but it's not time for a holiday, then short breaks in the UK are the perfect answer. PamperTree is there with those answers in just the same way that it solves your need for a hairdresser or a massage therapist! Short city breaks can be combined with other events, a gig by your favourite band, a sports fixture that you don't want to miss, or you want to hit the shops for some retail therapy. If it is any of those, London, Manchester, Leeds and so many other major UK cities offer the whole package for those demands, just get your timing right. City breaks and away days can include bookings at top restaurants, a night at the theatre or a lazy spa day, check out the current offers on PamperTree which regularly feature amazing PamperTree discounts for many entertainment venues and hotel breaks so that you can make a long weekend of it! If you are preferring a few days in the countryside, then a weekend or a midweek booking will provide the peace and tranquillity that restores your equilibrium. Maybe the summer months are making you feel land-locked and the call of the sea sends you onto these seaside short break listings, then you could find yourself packing a bag and heading for a Bournemouth short break, or on a weekend of sailing near Southampton! If you are budget conscious and feel that a weekend break may be expensive, then late bookings and seasonal offers will put you straight on that score. PamperTree never fails to surprise and if the UK doesn't give you what you are looking for, them short breaks from UK airports with transport you to Vienna, Amsterdam or elsewhere! Trust PamperTree to have thought of it all!
Body Treatments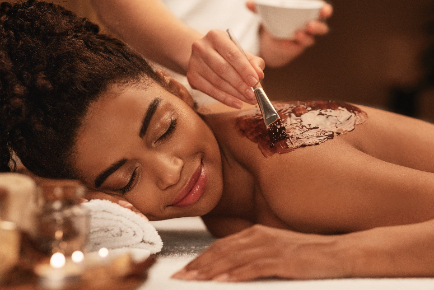 The full spectrum of body treatments offered by specialists in beauty salons everywhere fall into different categories and address the key areas of our overall body image which can include the essential regular care treatments, remedial treatments, or the semi-permanent and permanent body adornments. Traditionally London beauty salons were the first to promote the latest techniques and innovations but these days news travels faster than ever with social media playing a large part and beauticians in Glasgow, are offering the same body treatments London clients are enjoying, within days! Clients in the North West who may be looking for beauty salons in Manchester or Salford will certainly find a beauty therapist in Manchester who has both qualifications and experience in this area of expertise.  It may be someone is sought who is renowned for their success in facial peels, or alternatively a famous tattoo artist for some outstanding body art, whatever your requirements they can be found by selecting your chosen category and finding the Manchester Body Treatments you want! With UK coverage this equally applies to the quest for your body treatments in Swansea, a highly regarded practitioner of cryolipolysis or a colonic hydrotherapy body treatment near York. From the boost of getting a spray tan and coming out of the salon glowing and golden, to the weight loss treatments or body wraps that will work alongside your healthy diet, the best body treatments across the UK are highlighted here for you to discover.
Massage Therapies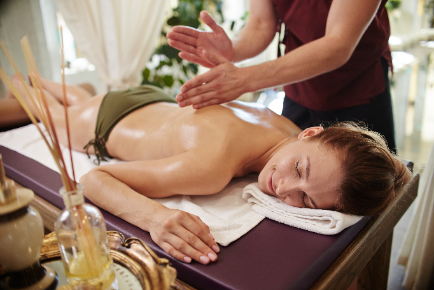 In spas, salons and massage centres across the country there is an ongoing surge of interest in massage therapy. There is barely a town which does not offer at least one massage salon, plus the addition of mobile massage therapists working in homes and places of work. The Good Spa Guide recently revealed the results of its survey which showed that clients everywhere were focussed on returning to beauty treatments in general, post pandemic, with 20% of them making massage and wellness a priority! In fact, those using the PamperTree search bar for massage in Birmingham, the best places for massage in London, massage Nottingham, Manchester massage and massage places in Glasgow are leading the ratings nationally. There are so many massage treatments that you are sure to find the one that suits your needs. You may be recovering from a sporting injury and both amateur and professional sports people rely on the deep tissue massage and the sports massage itself to keep them in tip top condition. With so many different techniques and philosophies, it is best to spend a while looking for the type of treatment that you require and massage therapists in Manchester alone are known to offer around twenty different types of massage solutions. PamperTree acknowledges the outstanding skills of these highly trained masseuses offering relaxing massages such as the Swedish massage or aromatherapy, to the Thai or medical massage and we are confident that the best massage in Manchester, Plymouth, Chester or anywhere, can be found when you use this online booking portal, so easy to use and bringing fantastic online discounts straight to you!
Spa Days
What can be better than an hour or two of body or beauty treatments followed by a relaxing massage? One of the few things that tops that, is a full day at a spa near you! Luxury Spa Days in London or in the glorious English countryside, they all deliver on the pure escapism that you need and more and more people are realising that with the terrific offers advertised regularly on PamperTree, such an indulgence is well within their reach. Putting your location and your choice of country hotel or city spa days into your search will bring up the best spa days in Brighton, or Bournemouth or Bradford! Wherever the fancy takes you!  You may be entering it as "spa days near me" or looking farther afield and making it part of a longer break. The options are all there. With spa packages that allow you to choose your treatments, including whether you enjoy a light gourmet lunch or a luxurious afternoon tea, Champagne or Prosecco, spa days in Leeds city centre will offer you the perfect spa experience just as much as a grand country house spa! Enter the doors and you are entering a different world! With spa packages for larger groups, a romantic destination for two, or a personal retreat where you can appreciate a time of solitude and relaxation, there is a spa that will cater for your needs. Day Spas in Manchester hotels may be the quick fix you need to find serenity away from the crowds or after a tough week at work, or spa days in Chester in spa hotels offering two night spa packages where you can relax and treat yourself to several of the different treatment, like a Rasul mud bath perhaps, or simply go for a facial! Wherever you choose to go, PamperTree will help you find the ideal venue for your spa days in England, Wales or Scotland!
...